Today, I'm sharing two stamp sets that you probably didn't even notice in the current Catalogs. They are Delicate Details from the Sale-abration Catalog and Vertical Garden from the Occasions Catalog.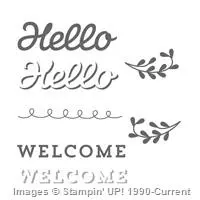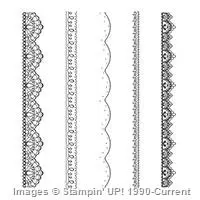 Honestly, these two sets were not something I was immediately sold on. I bought the Vertical Garden because I wanted to make the Vertical Garden kit and Delicate Details was a free set with a qualifying Sale-abration purchase.
I've used the Delicate Details on a couple cards now and I really do like the results. It produces a very pretty lace background.
The Vertical Garden is a two step stamp – you get the word and the shadows. I found better success stamping the shadow first and then the word over the top. To get the spots in the background, I used my aqua painter to flick reinker onto the card stock. I did cover up the lace when I was doing this so I wouldn't get ink everywhere. A couple enamel dots finish off the card.
Don't forget Sale-abration is going on right now. For every $50 purchase (pre-tax and shipping), you can pick one free Sale-abration item. What a deal! I don't know about you, but I'm always looking for a good deal which is why I signed up to be a Demonstrator. If you always want to get your craft supplies at a discount, we need to talk.